IAI recently participated in the 2017 WEDA Dredging Summit & Expo, held in Vancouver, British Columbia, June 26 – 29.  The Expo provided a great opportunity for our team to reconnect with friends and colleagues in the dredging industry, exchange ideas and learn about exciting innovations in the field.
Mile Point Presentation and Technical Paper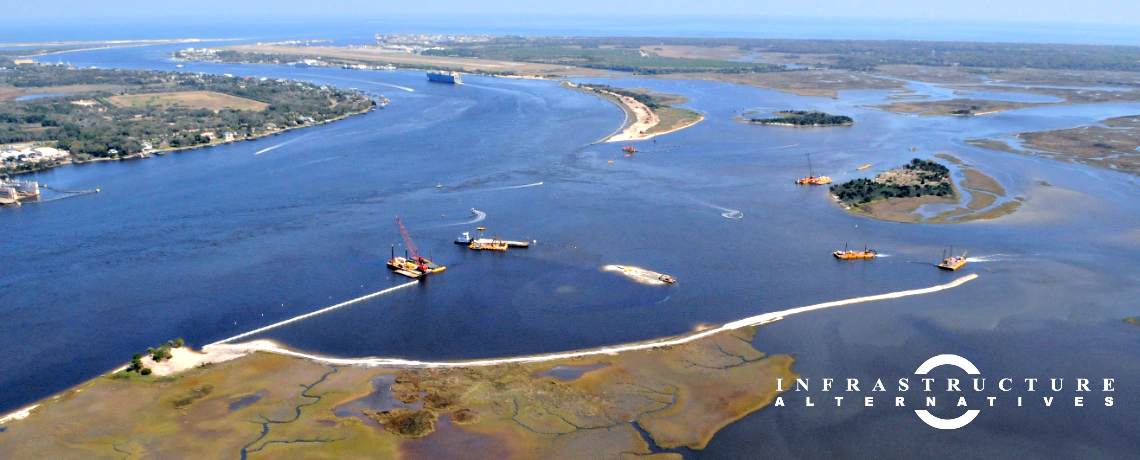 Kirk Foley presented a paper (co-written by Aaron Wright) during the Beneficial Reuse and Management of Dredged Sediment session at the conference.  Their paper detailed the challenges of installing geotextile tubes in the Mile Point area of the Jacksonville Intracoastal Waterway.
Learn more about the Mile Point project here.
2017 WEDA Environmental Excellence Award for Environmental Dredging
During the conference, the 2017 WEDA Environmental Excellence Award for Environmental Dredging was presented to the project team for Onondaga Lake Restoration in Syracuse, New York.
Project team members include Honeywell International; Parsons Corporation; Anchor QEA, LLC; O'Brien & Gere; Geosyntec Consultants; Sevenson Environmental Services; IAI (IAI); de Maximis, Inc.; and Brown & Sanford Consultants.
The Onondaga Lake project is one of the largest restoration projects in North America. The multi-year project was conceived by some premier experts from academia, industry and the public, and involved several decades of planning, investigations, engineering and construction, before coming to fruition.
Some 2.2 million cubic yards (MCY) of dredged material were removed from the lake bottom and pumped over 4 miles to an upland sediment consolidation area (SCA). The material was then placed within 979 geotextile tubes, stacked up to 5 layers high, over the 55-acre SCA.
Approximately 475 acres of cap was then placed over the lake bottom including placement of 1.6 MCY hydraulically, and another 1.5 MCY mechanically. Specialized amendments (over 14 million pounds of granular activated carbon, and 14,000 tons of siderite) were incorporated into the cap layers to provide additional sorption and retardation properties.  Approximately 37 acres of the lake bottom received targeted habitat restoration materials and planting.
These innovations resulted in technological advancements that were once thought to be unattainable. They combine innovative dredging and capping designs with long-term habitat restoration initiatives, which have led to an optimized, environmentally protective solution, with great economic benefits to the lake and surrounding communities.