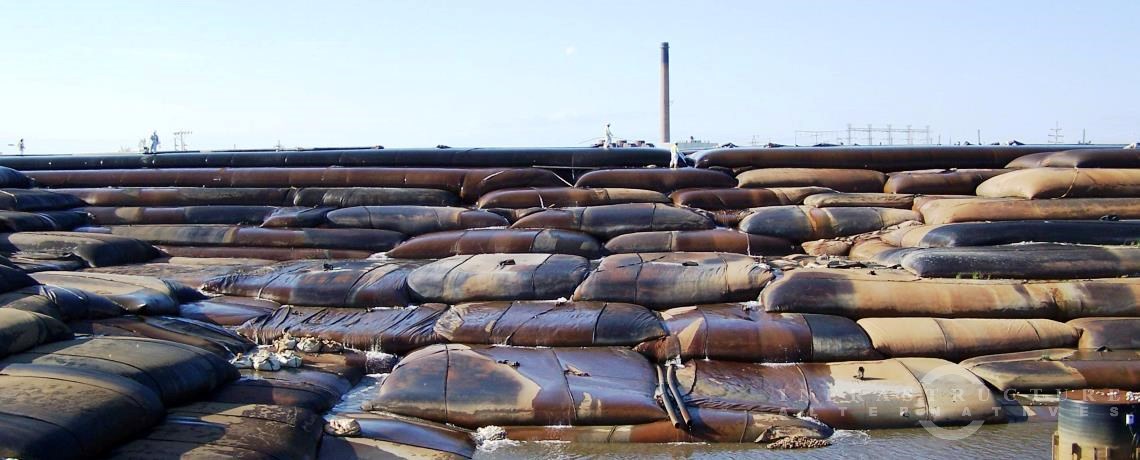 The Ashtabula River Remediation was the largest project to be funded through the Great Lakes Legacy Act (GLLA) at the time of performance. The project was executed in two phases by a team of contractors, working over three dredging seasons. At project close, approximately 640,000 cubic yards of contaminated soft sediments had been removed from the lower Ashtabula River.
The contaminated sediment was removed from the river by the dredging contractor, using a 12 inch diameter cutter head dredge. The sediment slurry was pumped over three miles at a rate of about 5,000 gallons per minute to the 12.5 acre sediment consolidation facility (CF). The CF was a TSCA permitted landfill, designed to provide both a dewatering facility and permanent disposal site for geotextile tubes filled with dewatered sediment. At the CF, the dredged slurry was conditioned with polymers, and then dewatered in geotextile tubes, which ranged in circumference from 75 to 90 feet and in length from 80 to 275 feet. The geotextile tubes used in the project were stacked in 10 layers inside the CF.
Water released from the geotextile tubes was collected in a sump at the bottom of the CF and transferred to an on-site water treatment plant, where it was treated prior to discharge into the Ashtabula River under an NPDES permit.
All of IAI's on site project personnel were 40-hour HAZWOPER certified and also received Radiation Worker II training for the project.
Remediation Services
IAI was contracted by the general contractors of both Phases I & II of the project to design, construct, operate and maintain the sediment dewatering system and was additionally responsible for operation of chemical addition and water treatment processes during Phase II of the project. IAI performed this work with an on-site staff of approximately 55 personnel during Phase II, operating 24 hours, 7 days a week for both phases of the project. IAI also provided engineering support to the project after the conclusion of active dredging and water treatment operations.
Sediment Dewatering & Water Treatment Equipment Utilized
12 inch and 10 inch diameter HDPE geotextile tube header systems
Flow- and density-paced automated chemical feed systems for dredge slurry conditioning
Chemical delivery header system
91,500 lineal feet of geotextile tubes, 75 – 90 feet in circumference
Telehandlers and 6-wheel ATVs
Water treatment system consisting of lamella clarifiers, pressurized sand filters and granular activated carbon adsorption units