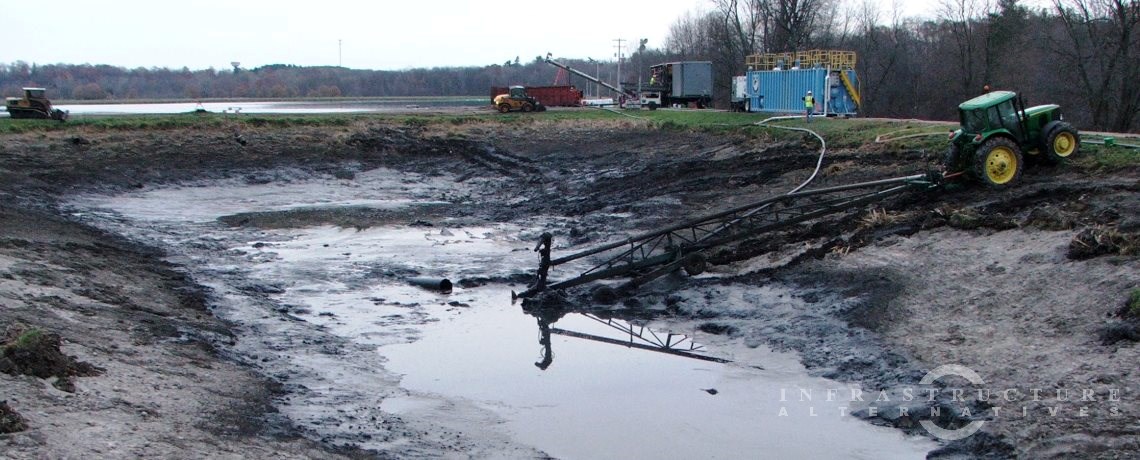 A municipal wastewater storage lagoon was filled with sludge that needed to be removed and disposed of. IAI used a PTO-driven 6" Houle pump to remove the sludge from the lagoon and transfer it to a mix tank. The sludge slurry was pumped from the mix tank, dosed with polymer and transferred to a trailer-mounted belt filter press for dewatering. The dewatered sludge was loaded into trucks for hauling to a local landfill for final disposal.
The belt filter press produced dewatered sludge with 25% solids content (on average). 83% up-time efficiency was achieved over the course of the project, which was completed in approximately 45 days (including mobilization and demobilization).
Scope of Work
IAI was contracted by the City of Belding to remove, dewater and dispose of 2.3 million gallons (563.5 dry tons) of sludge from a municipal wastewater lagoon. IAI also repaired and resurfaced the lagoon access road with recycled concrete.
Equipment Utilized
6" diameter PTO-driven sludge pump (800 gpm) with 6" diameter HDPE sludge slurry transfer pipeline
18,000 gal mixing tank
150 gpm progressive cavity chemical feed pump
2 m belt filter press
6" diameter dilution water pump
10,000 lb telehandler
300 kW generator