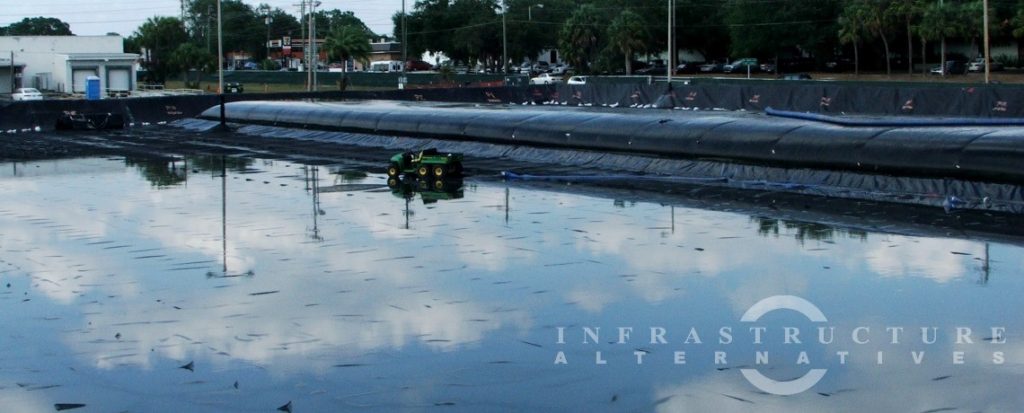 Summary
During this project, 14,000 cubic yards of contaminated sediment was hydraulically dredged from a former borrow pit and dewatered in geotextile tubes. An existing asphalt parking lot was converted into a geotextile tube laydown area with the installation of temporary sand berms and a high density polyethylene (HDPE) liner. Eighty foot circumference geotextile tubes, stacked in two layers over the temporary dewatering area, were used to dewater the dredged material.
Filtrate from the geotextile tubes was collected in a sump and pumped to a conventional sand filter at a rate of 1,000 gallons per minute. The turbidity of the sand filter effluent was continuously monitored with an inline turbidity probe; if the effluent turbidity exceeded a set point, the water was recycled to the head of the sand filter for additional treatment. The turbidity monitoring system was also equipped with an electronic data logger, so that every turbidity measurement taken could be recorded and later downloaded onto a laptop. The discharge from the water treatment system was regulated by an NPDES permit issued by the Florida Department of Environmental Protection.
IAI project personnel were OSHA 40 hour Hazardous Waste Operations and Emergency Response (HAZWOPER) certified.
Scope of Work
Design and installation of the dewatering pad over an existing parking lot
Operation of the polymer makedown and injection systems
Installation, operation and maintenance of the geotextile tube header and dewatering system
Dredging water treatment, including NPDES permit monitoring
Equipment Utilized
10 inch diameter HDPE geotextile tube header system
Flow- and density-paced automated chemical feed systems for dredge slurry conditioning
1,770 lineal feet of 75 foot circumference geotextile tubes
Telehandler and 6-wheel ATV
Water treatment system consisting of pressurized sand filters