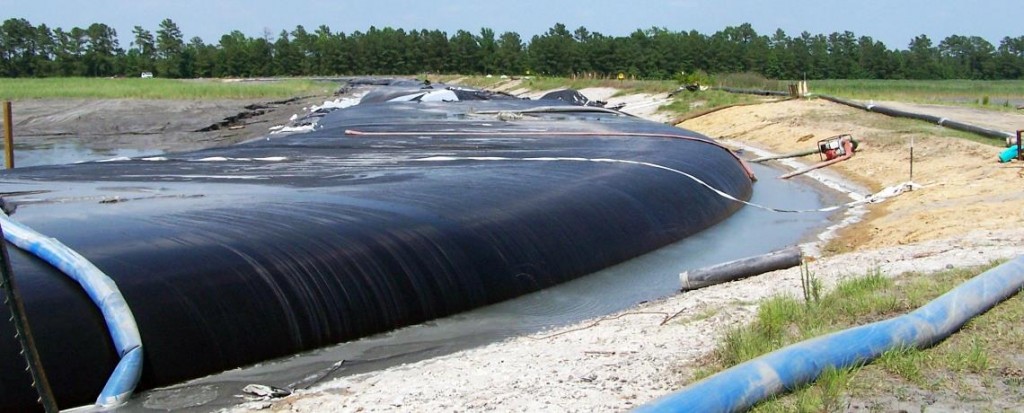 IAI utilized an 8 inch diameter auger dredge to remove 25,000 cubic yards of coal ash (or fly ash) sludge from an industrial settling pond at a coal-fired electricity generation plant in Lumberton, North Carolina. The coal ash was dredged directly into geotextile tubes, which were deployed around the perimeter of the same pond. The filled geotextile tubes, which were stacked in two layers, created a new berm, increasing the useable depth of the pond. The resulting increase in capacity represented two years worth of sludge or 110,000 cubic yards. IAI' design accommodates future expansion of the ponds because the geotextile tube berms can be stacked upon with additional layers of tubes, providing not only future disposal options for the coal ash but also an option to further increase the capacity of the pond.
IAI also designed and constructed a special weir structure to allow clear water to flow out of the pond. Total Suspended Solids (TSS) in the pond effluent is reduced because of improved hydraulics in the pond and the facility has been able to meet its NPDES permit discharge limits with greater ease.
In addition, the geotextile tube fabric prevents coal ash dust from migrating off-site and eliminates the need for seeding the berms.
Scope of Work
IAI was contracted to conduct an initial full scale pilot demonstration, as well as the resulting project. IAI was responsible for dredging 25,000 cubic yards of coal ash from the settling pond without disturbing the pond liner, dewatering the dredged ash in geotextile tubes, deploying the geotextile tubes around the perimeter of the pond to construct new berms, and designing and constructing a new weir structure to control effluent (clear water) discharge from the pond.
Equipment Utilized
8 inch diameter hydraulic auger dredge
8 inch diameter HDPE geotextile tube header system
3,450 lineal feet of 45 foot and 90 foot circumference geotextile tubes