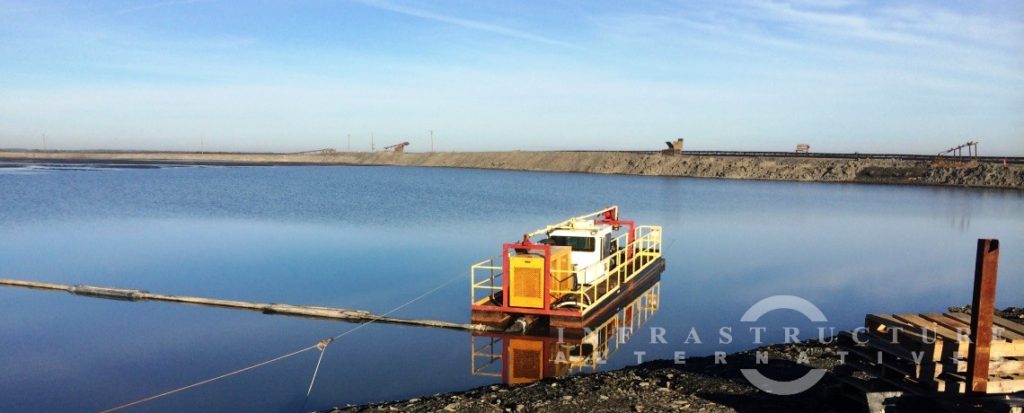 IAI utilized a 445 horsepower, 12 inch diameter auger dredge with a 12 inch diameter inline booster pump to remove coal fines from an impoundment that was filling to capacity at a mining facility in southern Illinois.
During day time hours, mine flow was combined with the dredge flow feeding the geotextile tubes dewatering operation, for a total flow of 3,000 gallons per minute (gpm). At night, only flow from the mine was processed in the geotextile tubes, at an average rate of 1,600 gpm. Coal fines are readily pumped at high percent solids, and the percent solids in the slurry delivered to the tubes averaged just over 30% and at times was over 40%.
The coal fines were dredged to an 18-acre geotextile tube dewatering area, where 75 – 80 foot circumference geotextile tubes were utilized to dewater the slurry. 54,545 lineal feet of geotextile tubes were stacked in three layers over the dewatering area, to contain approximately 390,000 cubic yards of coal fines.
Weep water from the geotextile tubes was collected in a ditch surrounding the dewatering area, and either pumped back to the mine for reuse, or pumped back to the impoundment to maintain sufficient water levels to float the dredge and sustain hydraulic dredging operations.