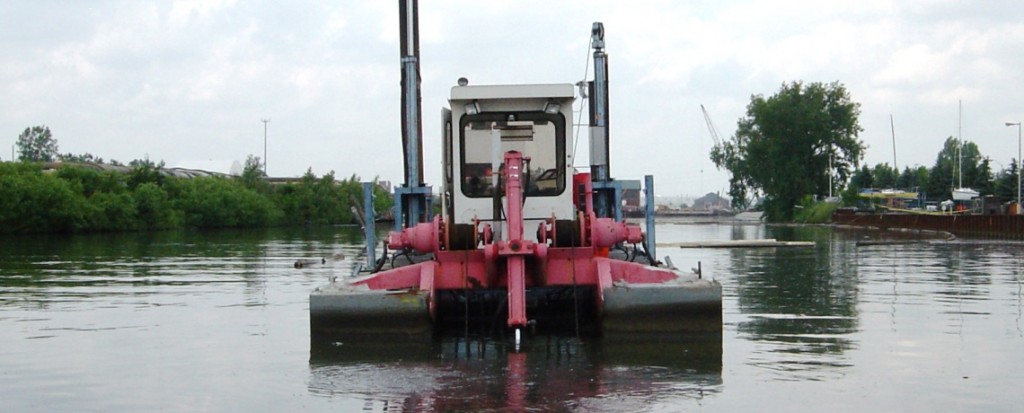 [table id=11 /]
IAI dredged 180,000 cubic yards of in-situ material from Conner Creek to create capacity for a new combined sewage overflow treatment facility. The project involved the removal of approximately 100,000 cubic yards of contaminated sediments utilizing an 8 inch diameter swinging ladder dredge and an 8 inch diameter auger dredge. A specially designed header system, constructed of 10 inch diameter and 8 inch diameter HDPE pipe, delivered the dredge slurry to large diameter geotextile tubes, deployed over three separate lay down areas, for dewatering. Dewatered material in the geotextile tubes approached 50% solids at the time of disposal.
Water released from the geotextile tubes was clarified in a lined settling pond constructed near the geotextile tube laydown area. Water was discharged from this pond back into Conner Creek under the direction of an IAI licensed wastewater treatment operator and was regulated by an NPDES permit.
The balance of the project involved mechanically dredging approximately 80,000 cubic yards of native clay and some contaminated sediments. This material was thickened with a bulking agent prior to transport to landfill for disposal.
Scope of Work
Provide 40-hour HAZWOPER certified staff, including a licensed wastewater treatment operator
Hydraulically dredge 100,000 cubic yards of PCB-contaminated soft sediments
Complete daily hydrographic surveys
Remove large debris and trash from the dredge path
Design, construct and maintain dredged sediment transfer pipelines and sediment dewatering areas
Dewater hydraulically dredged material in geotextile tubes
Meet NPDES permit limitations for water released from the geotextile tubes under the direction of a licensed wastewater treatment operator, conduct daily on-site laboratory analysis and complete monthly Discharge Monitoring Reports
Mechanically dredge 80,000 cubic yards of native clay mixed with small quantities of accumulated soft sediments
Thicken mechanically dredged material
Equipment Utilized
8 inch diameter swinging ladder dredge & 8 inch diameter auger dredge
Automated chemical feed system for dredge slurry flocculation
10 inch and 8 inch diameter geotextile tube header systems
40,000 lineal feet of geotextile tubes
Telehandler, front-end loader, survey & dredge support work boats
Hydrographic surveying equipment