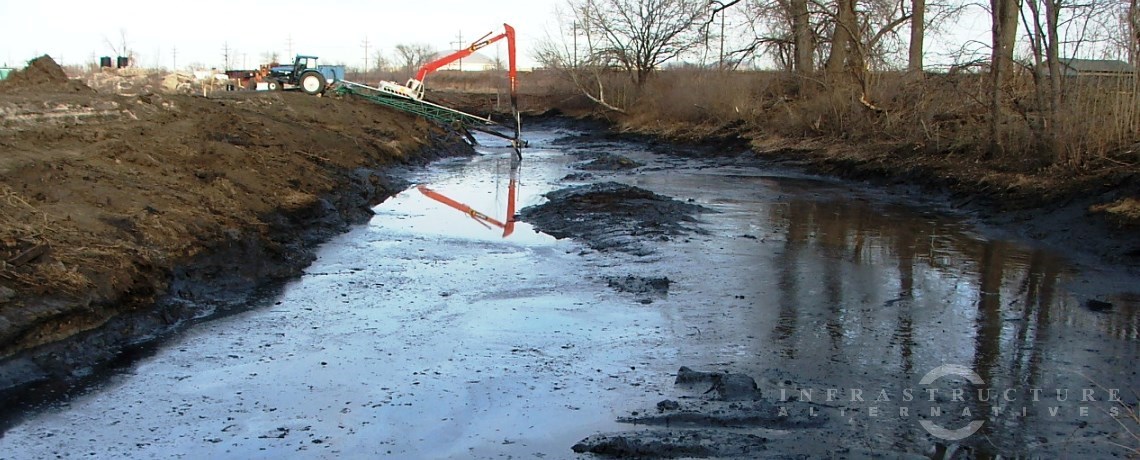 IAI was contracted to remediate two ponds at the site of this former wood-treating facility. The ponds contained a layer of thick, black oily sludge, contaminated with creosote, polyaromatic hydrocarbons and metals, which had to be removed.
To remediate the ponds, IAI removed the oily sludge with a submersible pump, and dewatered the slurry in geotextile tubes. IAI and its subcontractors constructed a dewatering pad by leveling a large area, building berms around it and lining it with high-density polyethylene (HDPE) liner to prevent groundwater contamination. The geotextile tubes were staged on this dewatering pad.
A centrifugal pump was used to pull the loose sludge from the ponds and deliver it to Geotube® containers which had been placed around the circumference of the dewatering pad for dewatering. The remaining portion of the sludge from the ponds was removed mechanically and placed in the center of the dewatering pad to dry.
Filtrate from the Geotube® containers and separated water from the mechanically-excavated sludge was collected and treated in a temporary on-site treatment plant before being discharged back into the ponds.
Due to the contamination in the pond sediment, all operations were covered under OSHA standard 1910.120 (the Hazardous Waste Operations and Response or HAZWOPER standard).