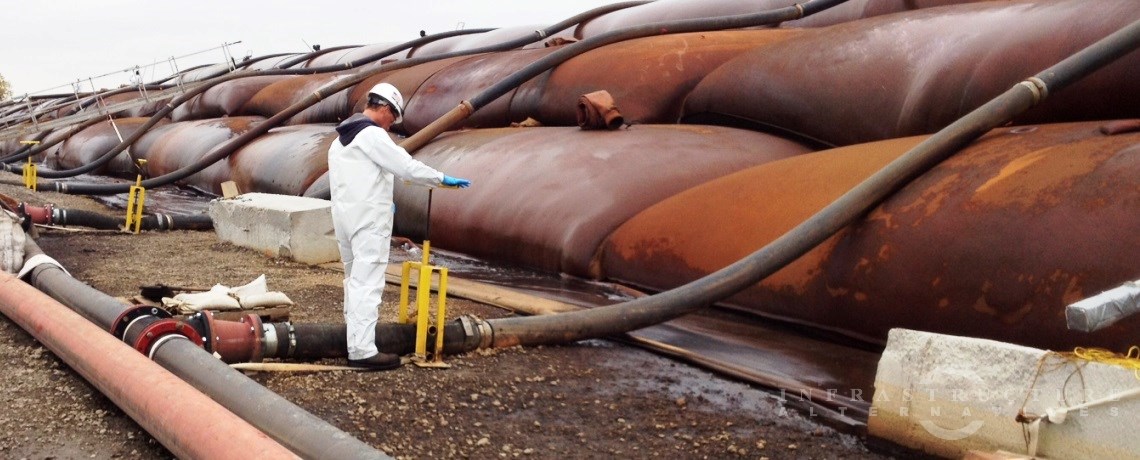 This remedial action project utilized hydraulic dredging to remove 145,377 cubic yards of contaminated sediment from the Grand Calumet River. IAI was responsible for the sediment dewatering and water treatment portions of work.
The sediment dewatering pad was installed over a brownfield site in East Chicago, where the contaminated sediment was treated with polymer and dewatered in large circumference geotextile tubes. Geotextile tubes were filled and stacked in three layers over the dewatering pad. The geotextile tubes will be hauled away from the site in Summer 2014 and disposed of in a landfill.
Weep water from the tubes as well as storm water that fell on the dewatering pad was collected in a sump. Sump water was pumped through an on-site wastewater treatment plant, which incorporated bag filters for suspended solids removal, and GAC vessels for the removal of dissolved organic contaminants. The on-site wastewater treatment plant effluent was discharged back into the Grand Calumet River under an NPDES permit issued by the Indiana Dept. of Environmental Monitoring. IAI's on-staff Indiana Class D wastewater operator served as Operator of Record for the system and supervised all WTP operations, as well as certifying monthly discharge reports to the state.
Scope of Work
Provide 40-hour HAZWOPER certified staff
Design sediment dewatering area
Construct geotextile tube header system
Design, install and operate chemical feed system
Dewater hydraulically dredged sediment in geotextile tubes
Design, install and operate on-site wastewater treatment plant to treat geotextile tube weep water and storm water
Provide our on-staff Indiana Class D certified operator to supervise WTP operations, sampling, analysis and reporting to the Indiana Dept. of Environmental Management
Decommission header system and water treatment plant
Equipment Utilized
Automated chemical feed system for dredge slurry flocculation
10 inch diameter HDPE geotextile tube header system
16,400 lineal feet of large circumference geotextile tubes
12 inch by 8 inch diameter Power Prime HH225C electric pump
3,500 feet of 12 & 10 inch diameter HDPE pipeline for effluent discharge to the Grand Calumet River
4,500 gpm (max. design flow) on-site wastewater treatment plant, including bag filters and Granular Activated Carbon vessels