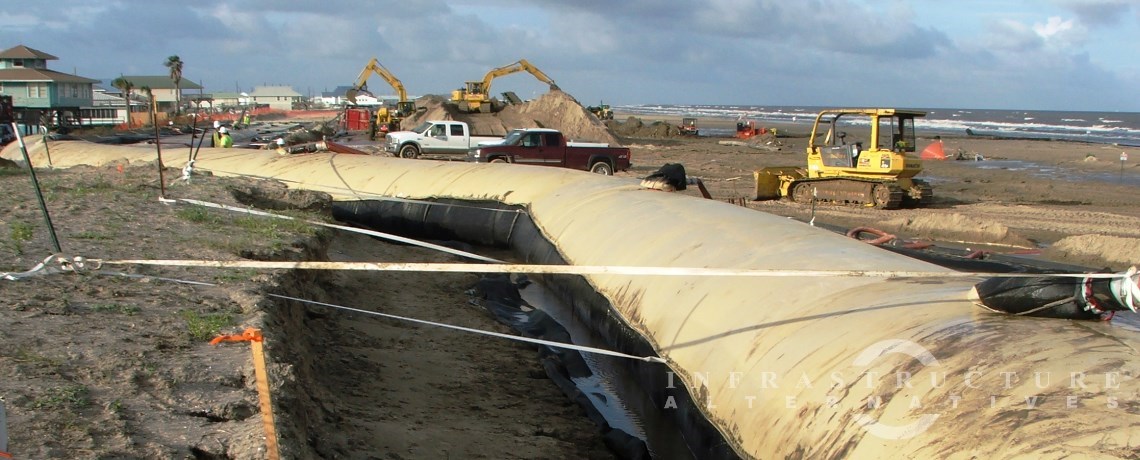 Summary
The Grand Isle & Vicinity Hurricane Protection Project was let by the U.S. Army Corps of Engineers (USACE) in the summer of 2009 to rehabilitate shorelines damaged by Hurricanes Gustav and Ike and install an innovative levee structure to protect the beach from future storms.
To reduce the impact of storm surge and resulting erosion, IAI used geotextile tubes and scour aprons to create a stable, well-anchored sand dune along the shoreline. The geotextile tubes were filled with sand to a height of 5.5 feet above sea level, then covered with additional 5 feet of sand and planted with vegetation to create the appearance of a natural dune. Although the sand cover may wash away in a storm, the geotextile tubes at the core of the artificial dune are designed to stay in place.
Approximately 90,000 cubic yards of sand were used over the course of the project to fill 31,100 lineal feet of 30 foot circumference geotextile tubes on the beachfront. Special filling techniques developed by IAI' project personnel were incorporated with the use of flat-end tubes to create snug joints between the individual tubes, producing a level surface to form the core of the dune.
The particular geotextile tubes used in this project were coated with polyurea, which strengthens the geotextile fabric and helps prevent damage due to punctures and UV rays.
Scope of Work
IAI was selected by the General Contractor to:
Install 30,100 lineal feet of 30 foot circumference poly urea coated geotextile tubes with 35 feet wide scour apron and 7 feet circumference anchor tubes
Remove and dispose of debris (105,000 cubic yards total)
Relocate the existing natural dune and grade the beach site
Rehabilitate the beach with one million cubic yards of sand
Salvage and replant native plant life
Equipment Utilized
30,100 lineal feet of 30 foot circumference geotextile tubes
2,850 lineal feet of 8 inch diameter HDPE pipe for filling tubes
(2) 8 inch diameter submersible pumps
(2) 4 inch diameter submersible pumps
(5) excavators
(6) dozers
(2) 12 inch diameter water pumps
(2) 400 kW generators
(6) 40 cubic yard off-road dump trucks
(4) all-terrain vehicles
(2) 4WD telescoping boom fork trucks