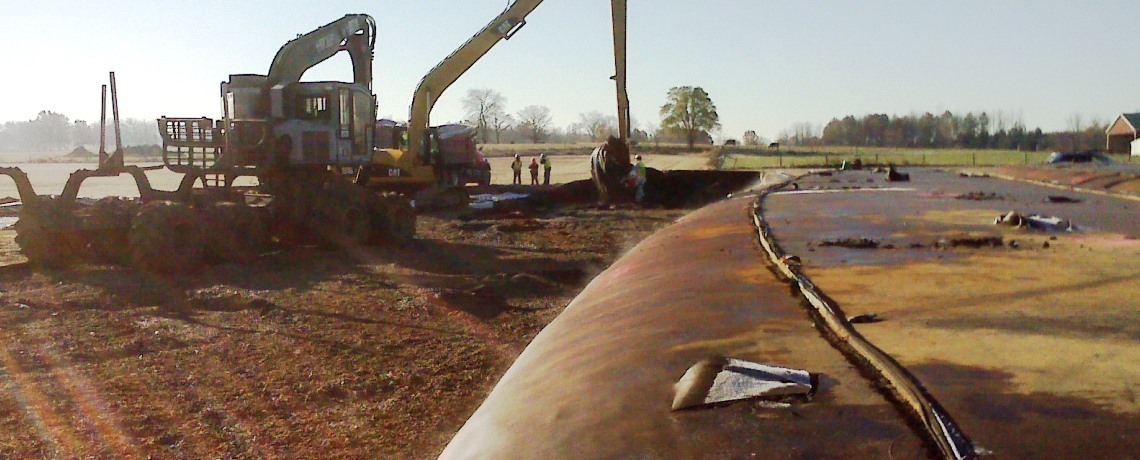 Summary
In July 2010, a crude oil pipeline near Marshall, Michigan ruptured and spilled an estimated 840,000 – 1,000,000 gallons of crude oil into Talmadge Creek and the Kalamazoo River. As part of the cleanup effort, an area of the Kalamazoo River near the Ceresco Dam was dredged to remove oil-contaminated sediment.
The dredged sediment was pumped to a temporary dewatering pad where IAI was responsible for dewatering operations. The dredged sediment was treated with polymer and dewatered in geotextile tubes. Consolidated geotextile tubes were removed from the site after approximately 45 days of dewatering.
IAI completed this work with a crew of 6 personnel, each OSHA 40-hour HAZWOPER certified with previous experience at a HAZWOPER cleanup site.
Scope of Work
Design and construct a geotextile tube header system capable of handling approximately 2,000 gpm dredge flow
Designed geotextile tube laydown area with gravel base
Designed a water treatment system consisting of bag filters, oil absorbing media filters and granular activated carbon filters
Deploy and fill about 2,600 lineal feet of 60 foot circumference geotextile tubes to dewater approximately 8,000 cubic yards of dredged sediment
Provide geotextile tube filtrate with low solids and no residual polymer to water treatment operator
Decontaminate and demobilize equipment and pipes upon completion of dewatering work
Equipment Utilized
8 inch diameter HDPE geotextile tube header system
Chemical feed systems for dredge slurry conditioning
Chemical delivery header system
2,600 lineal feet of geotextile tubes, 60 feet in circumference
Telehandlers and 6-wheel ATV