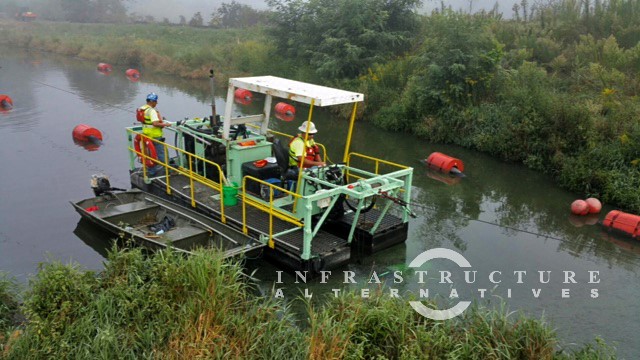 In 2015, the Lower Pond CCR Dredging Project was performed at a power generation station in Lansing, IA.  IAI was selected to provide dredging and bypass pumping operations services for the project.
IAI utilized our 8-in. diameter auger dredge to remove about 2,000 cubic yards of coal combustion residuals (CCR, or coal ash) from the Lower Pond, to prepare it for closure.  The 8" auger dredge was ideal for this project, due to its small size and ease of transport and placement in tight areas, as well as its lower flow rate, which minimized impact to the quality of water discharged from the pond system.  A 285-hp booster pump was used to boost flow and move the dredged material to a second setting pond.
While IAI was actively dredging in the pond, another contractor was performing other construction activities related to the pond closure.  Careful coordination and good communication to properly sequence work activities were critical factors in the success of the overall project.
When the CCR material was successfully removed, the facility was able to move forward with pond closure.  This project is an excellent example of IAIs ability to provide unique solutions, and easily work alongside other contractors to provide our clients with the best project outcomes.