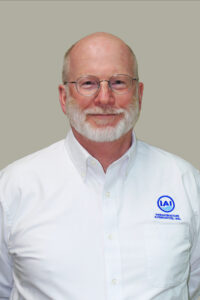 Mr. Brad Lyons, P.E., has joined Infrastructure Alternatives, Inc. (IAI), as Senior Engineering Manager for the firm's Engineering & Technical Services (ETS) Division. Brad's responsibilities in this role will include oversight of water and wastewater facility assessments, funding assistance efforts, process design, regulatory permitting, and preparation of construction documents, as well as coordinating with IAI's mechanical and operations teams for the installation and start-up of plant improvements.
Brad is no stranger to the senior management team IAI, having worked directly with them in past roles with previous employers. IAI President & CEO, Dana Trierweiler, P.E., said, "Brad is a strong addition to the IAI Team, bringing with him 35-plus years of process engineering experience, almost all of which were in the consulting field. He's dialed in to our unique arrangement with our operations staff and intent on making sure that the ETS Division not only meets, but exceeds the needs of both our contract operations staff and our client base. In the short time that Brad has been with us, we've already noted his positive impact and contributions."
IAI's ETS team works closely with our Contract Operations and Mechanical Services teams to deliver fully integrated solutions to water and wastewater system challenges throughout Michigan and Wisconsin.
Brad is a licensed Professional Engineer in the states of Michigan, Wisconsin, Illinois, Indiana, and Ohio with a BS in Civil Engineering from Wayne State University in Detroit. You may contact Brad directly at blyons@iaiwater.com.
Perrin Joins Team as Staff Engineer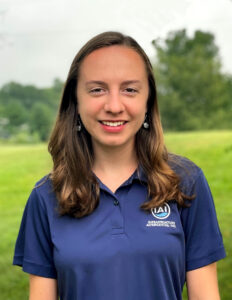 Brad is not the only new face among IAI's ETS staff. Ms. Emily Perrin, E.I.T., joined our team in summer of 2021, shortly following her graduation from the University of Michigan, with a BSE in Environmental Engineering with the Program for Sustainable Engineering. Emily is already immersed in water reliability studies, facility assessments, and chemical feed system design.
Emily is a member of the Society of Women Engineers and while at U of M, served as a Peer Mentor for the Women in Science and Engineering Residence Program. In that role, she mentored four incoming freshman on college academics and well-being. Emily enjoys travel, hiking with her dog, yoga, and cooking. She grew up along the Lake Michigan shore and still spends a lot of her time near or in the water. Her love and appreciation for the lakes, particularly Lake Michigan, guided Emily to seek out a career where she could help protect the waters of her home state from pollution.
Right away, Emily picked up on one of the things that makes IAI's ETS Division different. "It's been really interesting to see the relationship between the engineers and operators [at IAI]. I really appreciate how closely we're able to work together, since a lot of the time something that from the engineering side looks good on paper isn't practical within a plant."
Regarding Emily, Brad said, "Emily brings a perfect blend of environmental stewardship, natural curiosity, and a competitive spirit to the ETS team and compliments the skill sets of our existing team, including Sara Soleau, P.E. and Jill Harless, P.E." To get in touch with Emily, please reach out via email: eperrin@iaiwater.com.
We invite everyone to help us welcome both Brad and Emily to the IAI family, by leaving a comment below!