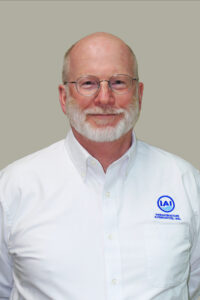 Mr. Brad Lyons, P.E., has joined Infrastructure Alternatives, Inc. (IAI), as Senior Engineering Manager for the firm's Engineering & Technical Services (ETS) Division. Brad's responsibilities in this role will include oversight of water and wastewater facility assessments, funding assistance efforts, process design, regulatory permitting, and preparation of construction documents, as well as coordinating with IAI's mechanical and operations teams for the installation and start-up of plant improvements.
Brad is no stranger to the senior management team IAI, having worked directly with them in past roles with previous employers. IAI President & CEO, Dana Trierweiler, P.E., said, "Brad is a strong addition to the IAI Team, bringing with him 35-plus years of process engineering experience, almost all of which were in the consulting field. He's dialed in to our unique arrangement with our operations staff and intent on making sure that the ETS Division not only meets, but exceeds the needs of both our contract operations staff and our client base. In the short time that Brad has been with us, we've already noted his positive impact and contributions."
IAI's ETS team works closely with our Contract Operations and Mechanical Services teams to deliver fully integrated solutions to water and wastewater system challenges throughout Michigan and Wisconsin.
Brad is a licensed Professional Engineer in the states of Michigan, Wisconsin, Illinois, Indiana, and Ohio with a BS in Civil Engineering from Wayne State University in Detroit. You may contact Brad directly at [email protected].
We invite everyone to help us welcome Brad to the IAI family, by leaving a comment below!