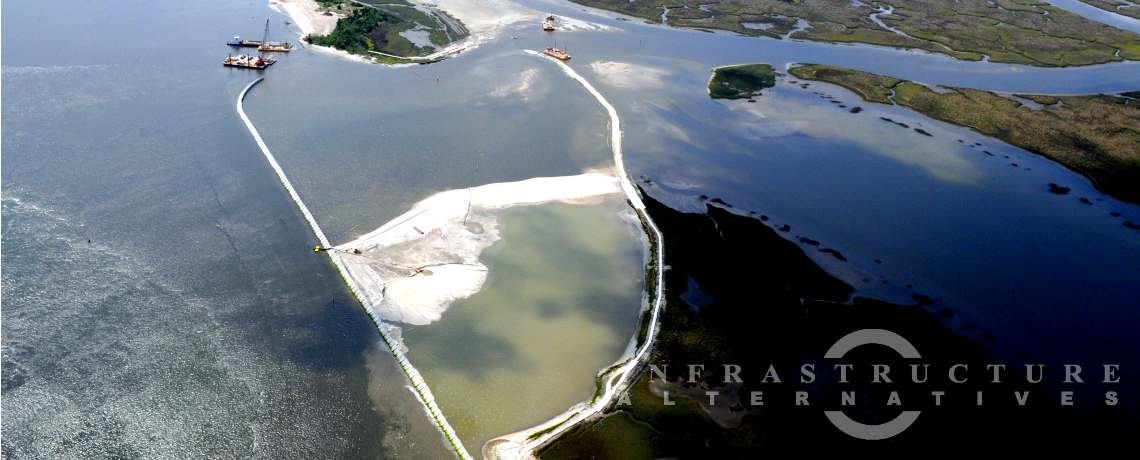 Next week, IAI Project Manager, Kirk Foley, will be presenting a technical paper on IAIs work on the Mile Point Training Wall project, at the WEDA Dredging Summit & Expo '17.  The paper was co-authored by Kirk and IAI Technical Director, Aaron Wright, and describes the challenges of installing a geotextile tube wall in the fast-moving, tidally-influenced waters of the Jacksonville Intracoastal Waterway.
IAI completed this unique geotextile tube installation in 2016, as part of a larger USACE project.  The geotextile tube installation, approximately 3,763-feet long, was designed to protect Great Marsh Island from land loss due to tidal erosion.  Emergent wetlands like Great Marsh Island are an important part of Florida's ecology, providing important habitat for migratory birds and other wildlife.
IAI installed the geotextile tubes near the intersection of the St. Johns River and the Intracoastal Waterway.  This area experiences difficult cross-currents at ebb tide, eroding wetlands and creating challenging conditions for construction efforts.  The wall was installed in partially in the water, and partially on land; later, dredge spoils were pumped behind the geotextile tube wall, restoring wetland and increasing the size of Great Marsh Island to about 52 acres of marsh habitat.
IAI developed a custom geotextile tube layout plan to achieve the required elevations of the wall.  Along the more than 3,000-foot long alignment length, water depths varied significantly.  Geotextile tubes ranging from a 17-foot circumference to 60-foot circumference were deployed in a single layer, while in the deepest section, a three-layer stack of 34-foot circumference geotextile tubes were needed to meet the design elevation.
Customized filling techniques developed by IAI's crew were utilized to safely and accurately place the scour aprons and geotextile tubes in areas with high velocity currents.  Our personnel recognized that the use of scour aprons in this application was critical, and successfully executed the installation.  The scour aprons protected the sand base that the geotextile tubes were installed on top of, and prevented it from being washed out by the currents.
IAI filled the geotextile tubes with sand to a height of 6-feet MLLW in temporary areas of the alignment.  When dredging behind the wall was complete, the temporary tubes were cut open and levelled to allow water to flow in and out of the marsh land.  The remainder of the geotextile tubes and scour aprons were left in place under the surface of the water, to provide the island with continued erosion protection.
IAI served as a subcontractor to Manson Construction Company on this project.