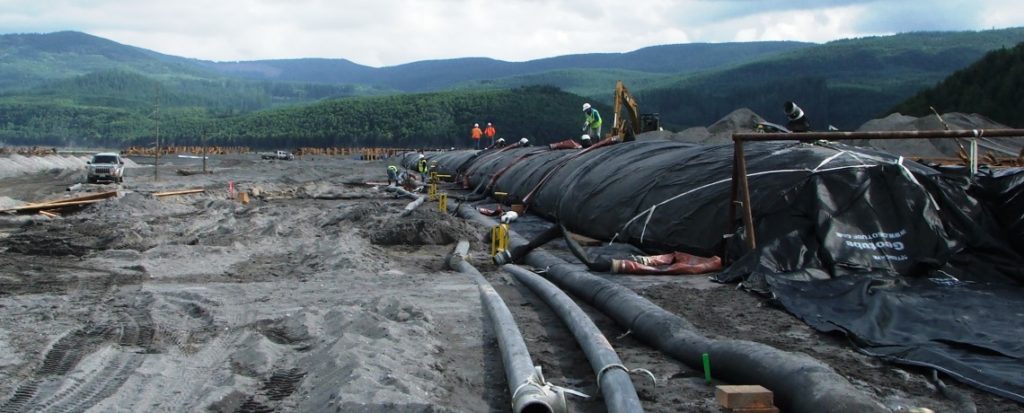 Summary
IAI installed 2,300 lineal feet of scour apron and 2,300 lineal feet of 40 foot circumference geotextile tubes in the North Fork Toutle River as part of an effort to reduce flooding by trapping sand and sediments flowing from the Mount St. Helens volcano into the river. The tubes have been placed in the river, along with massive timber structures (constructed by others) to create barriers to the river flow, slowing it down and allowing the sediment it carries to build up behind the geotextile tube and timber structures. The project was conducted to reduce flooding in the local area and also to create new wetlands habitats for birds and other wildlife.
The geotextile tubes utilized for the project were manufactured with debris shields, which reinforced the strength of the geotextile fabric, increasing protection against damage from punctures and UV rays. The tubes were filled with volcanic ash to a height of 6 feet above normal river bed elevations and then covered with an additional 3 feet of sand and rip-rap.
Scope of Work
IAI was retained by the General Contractor to install and fill 2,300 feet of geotextile tubes and scour apron.
Equipment Utilized
2,300 lineal feet of 40 foot circumference geotextile tubes
2,300 lineal feet of scour apron
Two 8 inch diameter submersible pumps for filling the tubes with ash slurry
12 inch diameter pump for dilution water to fluidize ash
8 inch diameter slurry conveyance pipeline
200 kW generator
2 All Terrain Vehicles