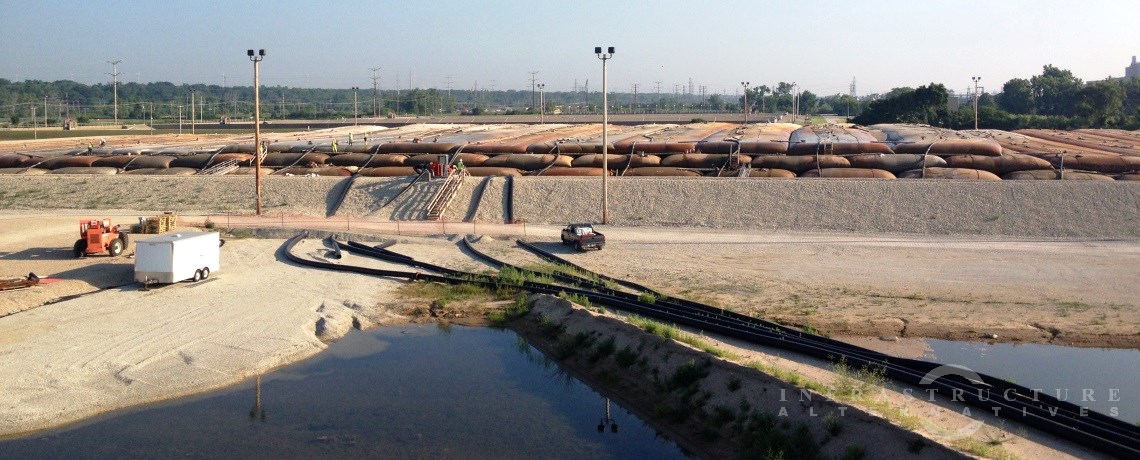 | | |
| --- | --- |
| Client | CH2M HILL |
| Location | Waukegan, Illinois |
| Sediment Contaminant of Concern | Polychlorinated biphenyls (PCBs) |
| Services Provided | Geotextile tube dewatering and on-site wastewater treatment |
IAI (IAI) serves as sediment dewatering and water treatment subcontractor on the Waukegan Harbor OU1 project. The project removed 117,278 cu yds of PCB contaminated sediment from Waukegan Harbor, in Waukegan, Illinois.  Sediment was hydraulically dredged from the harbor and transferred to the landside facility for processing and disposal. The sediment processing system design included a trommel screen for large debris removal, and dredge slurry thickening in a gravity thickener, prior to geotextile tube dewatering.  Large circumference geotextile tubes were stacked in three layers over the sediment Containment Facility.  Water released from the geotextile tubes, storm water collected on the dewatering pad and clear water overflow from the gravity thickener was transferred to the on site water treatment plant for treatment prior to discharge back into the harbor.  Dredging was completed over two seasons, 2012 – 2013.
Scope of Work
Install and operate polymer make down and feed system
Operate and maintain trommel screen and gravity thickener and ancillary equipment
Design, install and operate the geotextile tube header system
Deploy and operate of the geotextile tubes
Start-up, operate and maintain 2,500 gpm (maximum design flow) water treatment plant, configured with lamella inclined plate clarifiers, pressurized multi-media filters, bag filters and Granular Activated Carbon (GAC) vessels
Landside health and safety, including design and installation of personnel and equipment decontamination areas, determination and enforcement of site work zones, development and implementation of a written site-specific health and safety plan, and air monitoring
Equipment Utilized
17,625 lineal feet of geotextile tubes, 75 – 82 feet in circumference
8 inch diameter fused HDPE geotextile tube header system
Gravity thickener with pre-screening (trommel screen)
150 gpm dry polymer make down and feed system and injection header
2,500 gpm design flow water treatment plant
Project Photo Gallery
Share this: