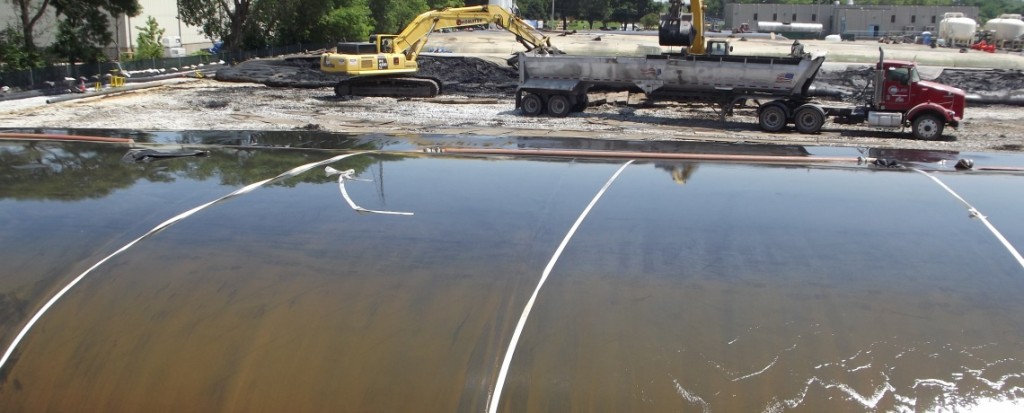 The West Branch Grand Calumet River and Roxana Marsh Reaches 1 & 2 Remedial Action Project involves hydraulic dredging to remove contaminated sediment, geotextile tube dewatering of the dredged material, bulking and removal of the dewatered sediment from the site, and treatment of the geotextile tube weep water. IAI is responsible for the sediment dewatering and water treatment portions of the work.
The project was conducted in an urban area and the project site has limited available space. IAI designed a 465 ft x 280 ft geotextile tube dewatering pad to process 126,000 cubic yards (in-situ) of dredged material. As geotextile tubes were being actively filled on one end of the pad, on the other end, geotextile tubes which had been allowed to dewater for several days were being hauled out. The dewatering pad had an estimated capacity of 10,000 – 15,000 cubic yards and was utilized several times over the course of the project.
Water released from the geotextile tubes was collected in a sump and treated in a temporary plant on site. IAI designed the plant, utilizing skid-mounted bag filters and Granular Activated Carbon vessels. Treated water was discharged via dedicated pipeline to the East Chicago Sanitary District's wastewater treatment plant. An Industrial Pretreatment Program permit, issued by ECSD, governed this discharge. Requirements of the IPP permit included weekly sampling for laboratory analysis and monthly reporting to ECSD.
Remediation Services
Provide 40-hour HAZWOPER certified staff
Design sediment dewatering area
Dewater hydraulically dredged material in geotextile tubes
Treat water released from the geotextile tubes, along with storm water and truck wash water from the dewatering pad
Meet IPP permit limitations for water released from the geotextile tubes, collect weekly composite samples for laboratory analysis and prepare monthly discharge reports
Sediment Dewatering & Water Treatment Equipment Utilized
Automated chemical feed system for dredge slurry flocculation
10 inch and 8 inch diameter geotextile tube header systems
Approximately 18,000 lineal feet of 75 ft circumference geotextile tubes
12 inch diameter Godwin Dri-Prime HL225 electric pump
1.5 miles of 12 inch diameter HDPE pipeline for treated water conveyance
Bag filters and Granular Activated Carbon vessels to pretreat geotextile tube weep water prior to municipal WWTP